Puck 406
on 
September 4, 2017
at 
9:33 pm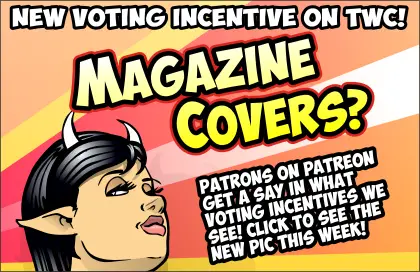 SEPTEMBER WEEKLY VOTING INCENTIVE!!! MAGAZINE COVERS!!!
The Puck cast appears on their own individualized magazine covers! How? I don't know how! Why? That's a mystery too! And remember, this voting incentive was chosen by special fans who donate $5 or more a month! If you want to join their controlling ranks, HEAD ON OVER TO PATREON and join the select club!
As for this comic…
Puck actually reappears in her own comic! Zounds!
Seriously, though, I had many more ideas for strips about the conversation between Colin and the surgical oncologist, but enough was enough. Even this comic's content was originally planned not to feature Puck, but I was missing the rest of the cast. And if I can gauge anything by my pageview numbers, a bunch of readers are missing them too, because … yeah. Not so good.
Anyway, for those brave readers who are continuing to slog through this less goofy story arc, I salute you! Those who comment every week (or even just once to let me know you like my stuff), I salute you! And those who consistently toss a dollar (some even FIVE dollars) my way every month on Patreon, I SUPER SALUTE you! You guys all make this totally worth it!