Puck 407
on 
September 11, 2017
at 
8:28 pm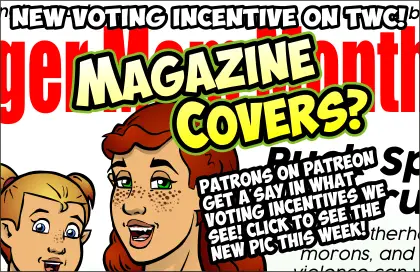 SEPTEMBER WEEKLY VOTING INCENTIVE!!! MAGAZINE COVERS!!!
The Puck cast appears on their own individualized magazine covers! How? I don't know how! Why? That's a mystery too! And remember, this voting incentive was chosen by special fans who donate $5 or more a month! If you want to join their controlling ranks, HEAD ON OVER TO PATREON and join the select club!
As for this comic…
In the interest of disclosure, I need to admit that I DO NOT own a shirt matching Daphne's description. Though the possibility is tempting. This comic also may or may not be taken as evidence that Daphne actually designs and produces all of the many shirts she's worn.