Puck 423
on 
January 1, 2018
at 
10:07 pm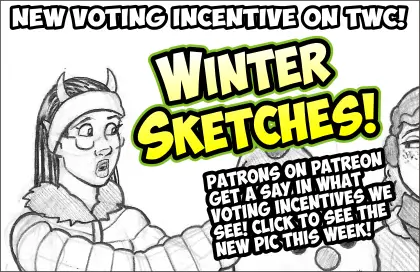 NEW VOTING INCENTIVE!!! WINTER SKETCHES!!!
January will be devoted to some winter activity sketches to get us in the seasonal mood! It's easy for me right now because it's currently -20 C outside with over a foot of snow. Vote to see this week's offering! (And remember: fans who donate $5 or more a month get a say in what voting incentives run! If you want to join their controlling ranks, HEAD ON OVER TO PATREON and join the select club!)
VOTE FOR PUCK BUT ONLY IF YOU WANT TO!!!
As for this comic…
This ends the chapter. And represents the last entry of 'phase three' for this webcomic. (In other words, if I ever get around to printing Volume Two of Puck, this will be the final strip in that collection.) The fact that it ended right at the very end of 2017 is honestly pure coincidence. But it's nice when things align like that.
I wish everyone a good new year, and hope 2018 is not a disaster. 2016 and 2017 haven't given me much to be hopeful for on the global front, but hope springs eternal.