Puck 422
on 
December 25, 2017
at 
10:46 pm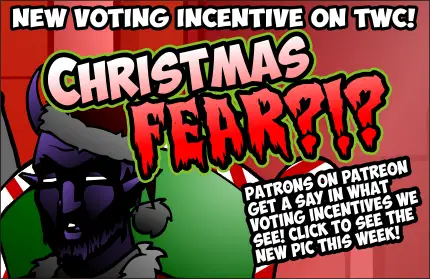 NEW VOTING INCENTIVE!!! CHRISTMAS FEAR!!!
The full December voting incentive is finally available for viewing! Check it out! (And remember: fans who donate $5 or more a month get a say in what voting incentives run! If you want to join their controlling ranks, HEAD ON OVER TO PATREON and join the select club!)
VOTE FOR PUCK BECAUSE I'M DESPERATE!!!
As for this comic…
At least one person called this a few months ago. I forget who, but if it was you, good call. Either that or my by-the-numbers storytelling is easy to predict. Probably the latter.
For those who are confused, Puck and Colin were never formally married. That's been discussed at length in other strips, but it's been a while since those comics ran, so newer readers might not be aware. Now you know. And your life is in no way different thanks to that knowledge.
Merry Christmas, y'all.