Puck 436
on 
April 2, 2018
at 
9:52 pm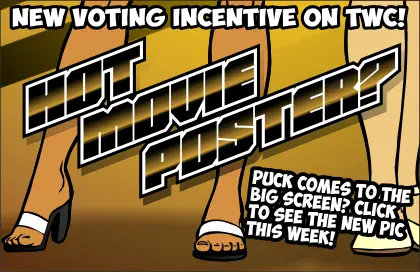 NEW VOTING INCENTIVE! MOVIE POSTER!?!
Something new is up on TWC! It's actually just the newest two pics that I'm using for the cover of Puck Volume Two, only I've gussied the pics up and made a slightly more entertaining product out of it! It's bound to be stupid, so…
VOTE FOR PUCK AND KEEP THE STUPIDITY ROLLING!!!
ALSO…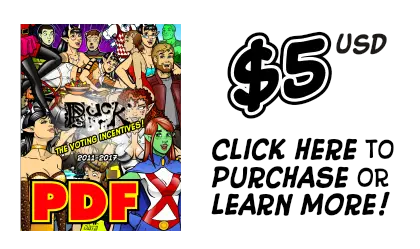 I recently put a bunch of work into updating the PDF collection of voting incentive images, and the results are finally assembled! This new PDF volume contains all the voting incentives from 2011 all the way to 2017 (including some that never even ran) in a print-ready high resolution! That's almost 200 pages of stuff! So if you'd like to buy a copy, please do!
As for this comic…
The trip to the comic store ends. And it didn't take half a year! For once, I said I'd do a little short mini arc and I actually pulled it off in a little over a month. The next arc, though, won't be so short.
Also, I realize now that Tyler went along for this whole thing and he didn't say anything, do anything, or interact with anyone the whole time. In fact, when I started the comic, I'd planned to have him tag along, but then I was mapping out the first panels and I thought, "Should I cut him? It would make framing and drawing easier if I did." Then I thought, "Nah, it feels like he should be there." Then I struggled to frame the next few comics, often just 'TV edit' cutting him out of frame. I am nothing if not inefficient as both an artist and storyteller.