Puck 437
on 
April 9, 2018
at 
9:32 pm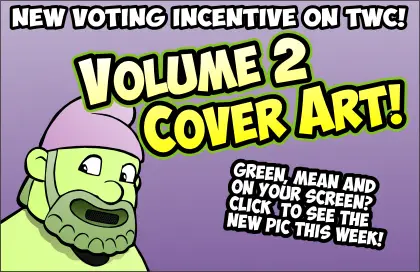 NEW VOTING INCENTIVE! MORE VOLUME TWO!
Volume Two cover pics keep on coming, so…
VOTE FOR PUCK AND KEEP THE STUPIDITY ROLLING!!!
ALSO…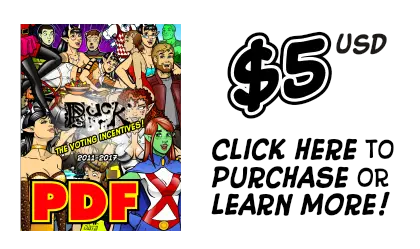 I recently put a bunch of work into updating the PDF collection of voting incentive images, and the results are finally assembled! This new PDF volume contains all the voting incentives from 2011 all the way to 2017 (including some that never even ran) in a print-ready high resolution! That's almost 200 pages of stuff! So if you'd like to buy a copy, please do!
As for this comic…
This idea came to me some time last week, and it struck me as the funniest damn thing ever. Maybe that's a bad sign, but the concept of a baby's first words being "Joe Pesci" just had me giggling uncontrollably for a few minutes. Sure, it's basically impossible if you know all about speech development and the steps towards language, but come on!
It then occurred to me that all those millennials out there might not even know who Joe Pesci is, especially given the fact that he's been in semi-retirement since 1999 or so. But then I decided, "To hell with the millennials!" and went for it anyway.
Note: the first draft of thise comic referenced the movie 'Goodfellas' in panel four instead of the 'Lethal Weapon' and 'Home Alone' movies, but I changed it after some thought. For one thing, though Colin is not what I would consider a good dad, I don't think he's irresponsible enough to actually watch 'Goodfellas' in front of his child. For another thing, 'Goodfellas' is actually a pretty damn good movie, so it ruined the irony of Colin's 'cultural boor' quip. And for yet another thing, I thought of those millennials again, and I thought that if they've ever seen a Joe Pesci movie, it was probably 'Home Alone'.