Puck 438
on 
April 16, 2018
at 
9:02 pm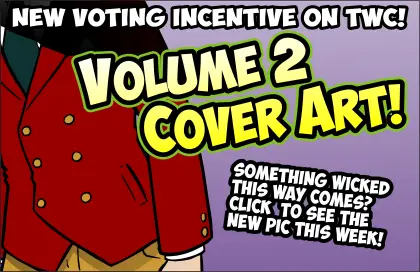 NEW VOTING INCENTIVE! MORE VOLUME TWO!
Volume Two cover pics keep on coming, so…
VOTE FOR PUCK AND KEEP THE STUPIDITY ROLLING!!!
ALSO…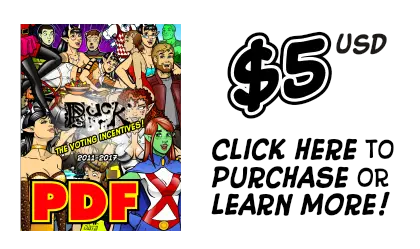 I recently put a bunch of work into updating the PDF collection of voting incentive images, and the results are finally assembled! This new PDF volume contains all the voting incentives from 2011 all the way to 2017 (including some that never even ran) in a print-ready high resolution! That's almost 200 pages of stuff! So if you'd like to buy a copy, please do!
As for this comic…
Okay, so this comic's original joke was slightly better, but then it sadly got ruined thanks to the magic of region-specific colloquialisms. Daphne's line in panel four was initially "If it's charity he wants, he can make out with the Sally Ann down the street." 'Sally Ann', see, is slang for the Salvation Army – but ONLY in Britain and Canada. I didn't know that the term wasn't a stateside thing, but then I discovered it thanks to my friend Google, and the joke was ruined. Okay, it wasn't exactly ruined, but it's not as elegant as it was. See, Sally Ann is a girl's name! And it's also a charity! See? It was perfect! Now it's not.
I blame America. It's all their fault for not getting my weird Canadian slang which (now that I think about it) makes absolutely no sense.