Puck 440
on 
April 30, 2018
at 
9:50 pm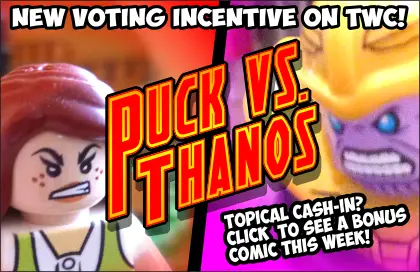 NEW VOTING INCENTIVE! INFINITY WAR TOPICAL CASH-IN!
It's a little tease of a bonus comic I may be actually expanding upon later, so …
VOTE FOR PUCK AND LIVE THE GOOD LIFE!!!
ALSO…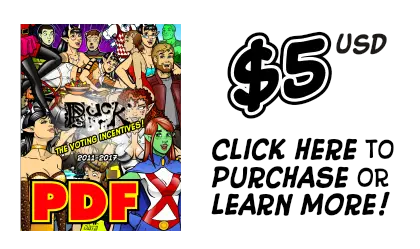 I recently put a bunch of work into updating the PDF collection of voting incentive images, and the results are finally assembled! This new PDF volume contains all the voting incentives from 2011 all the way to 2017 (including some that never even ran) in a print-ready high resolution! That's almost 200 pages of stuff! So if you'd like to buy a copy, please do!
As for this comic…
I doubt anyone would actually notice this, but the framing of this comic sort of half-intentionally echoes Puck 114 where a somewhat similar scenario played out. Though looking at that comic next to this one really hammers home how much those old Puck comics kind of look like trash. Oh well. At least the jokes are still kind of funny.