Puck 441
on 
May 7, 2018
at 
10:51 pm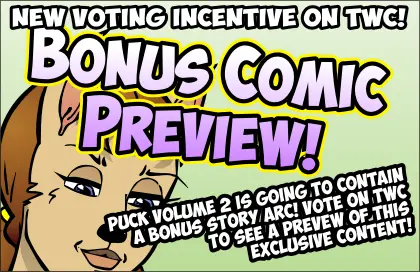 NEW VOTING INCENTIVE! BONUS COMIC PREVIEW!
There's a new, exclusive bonus story arc that's going to be contained inside Puck Volume Two! Vote for Puck on TWC this month each week to get a little preview of what's coming!
VOTE FOR PUCK AND LIVE THE GOOD LIFE!!!
ALSO…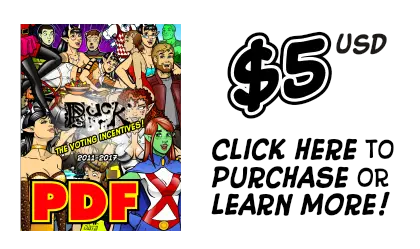 I recently put a bunch of work into updating the PDF collection of voting incentive images, and the results are finally assembled! This new PDF volume contains all the voting incentives from 2011 all the way to 2017 (including some that never even ran) in a print-ready high resolution! That's almost 200 pages of stuff! So if you'd like to buy a copy, please do!
As for this comic…
Herein lies the basic truth of all counter-culture lone wolves who hold mainstream life in reprehension: weirdos often despise the 'game of normal life' because they're really bad at playing it. Take me: I dislike jocks and their many, many sports, and their many, many sports teams and all that, and I dismiss them all as shallow dimwits, but really it's all just me overcompensating for the fact that I can't play sports to save my life. I suck at a defined element of everyday life, so therefore (according to me) they suck on some nebulous, ill-defined level that I can't really even quantify.
It's a fallacy of the highest order, but hey, one has to keep one's fragile ego together somehow.