Puck 442
on 
May 14, 2018
at 
10:00 pm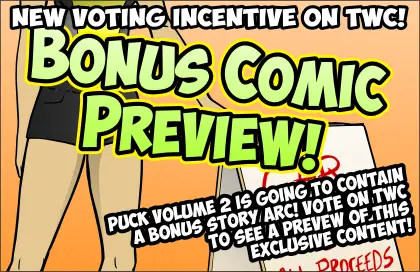 NEW VOTING INCENTIVE! BONUS COMIC PREVIEW!
There's a new, exclusive bonus story arc that's going to be contained inside Puck Volume Two! Vote for Puck on TWC this month each week to get a little preview of what's coming!
VOTE FOR PUCK AND LIVE THE GOOD LIFE!!!
ALSO…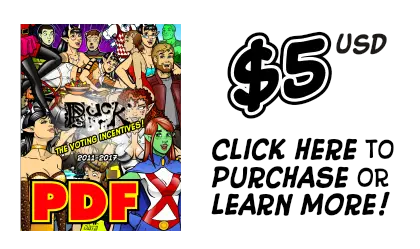 I recently put a bunch of work into updating the PDF collection of voting incentive images, and the results are finally assembled! This new PDF volume contains all the voting incentives from 2011 all the way to 2017 (including some that never even ran) in a print-ready high resolution! That's almost 200 pages of stuff! So if you'd like to buy a copy, please do!
As for this comic…
As the intro text suggests, I don't think anyone will be very shocked at this development. It's a predictable plot. So far. From here on in, it might not go exactly as expected, though.
And for those who are curious, no, I don't know what weird orange food Miranda is eating. It just always seems like babies are eating orange food mush.