Puck 443
on 
May 21, 2018
at 
9:39 pm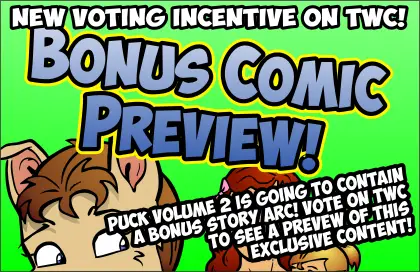 NEW VOTING INCENTIVE! BONUS COMIC PREVIEW!
There's a new, exclusive bonus story arc that's going to be contained inside Puck Volume Two! Vote for Puck on TWC this month each week to get a little preview of what's coming!
VOTE FOR PUCK AND LIVE THE GOOD LIFE!!!
ALSO…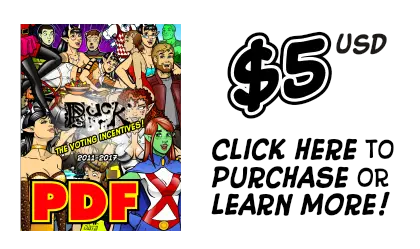 I recently put a bunch of work into updating the PDF collection of voting incentive images, and the results are finally assembled! This new PDF volume contains all the voting incentives from 2011 all the way to 2017 (including some that never even ran) in a print-ready high resolution! That's almost 200 pages of stuff! So if you'd like to buy a copy, please do!
As for this comic…
It's rare that there is any acknowledgement in this comic whatsoever of the fact that Daphne is anything other than human, but it slips in every once in while. And by 'once in a while,' I mean about seven years. The last time was HERE. I don't know what to make of the fact that only Puck ever seems to be the one to comment on Daphne's unusual origin. Perhaps if we apply Adams' concept of the 'Somebody Else's Problem Field' to explain the whole thing, it makes sense. Daphne's species and origin is, to most characters, obviously Somebody Else's Problem, so they never really notice. With Puck, though, Daphne's origin was at one time very much her problem, seeing as the furry urchin child was deposited on her very doorstep.
Either that, or it's just that I'm inconsistent and break the rules of my own comic when it serves to deliver a punchline.
Probably the latter.