Puck 444
on 
May 28, 2018
at 
9:54 pm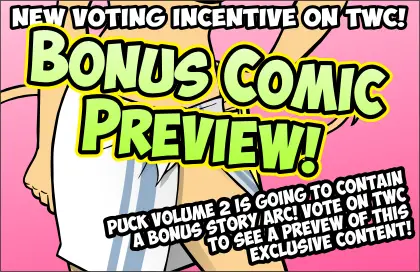 NEW VOTING INCENTIVE! BONUS COMIC PREVIEW!
There's a new, exclusive bonus story arc that's going to be contained inside Puck Volume Two! Vote for Puck on TWC this week to get a little preview of what's coming!
ALSO…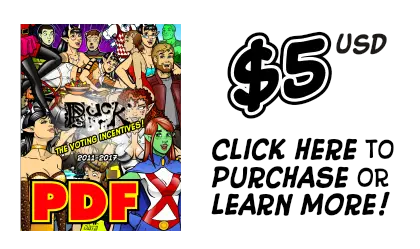 I recently put a bunch of work into updating the PDF collection of voting incentive images, and the results are finally assembled! This new PDF volume contains all the voting incentives from 2011 all the way to 2017 (including some that never even ran) in a print-ready high resolution! That's almost 200 pages of stuff! So if you'd like to buy a copy, please do!
As for this comic…
I debated for a while whether to include the 'sproing' in panel four. On the one hand, I thought, "It's a stupid move, and it makes the comic stupid." On the other hand, I thought, "This comic is already stupid, so the 'sproing' fits right in." And so I went with it.