Puck 445
on 
June 4, 2018
at 
9:32 pm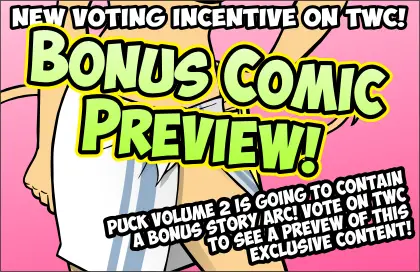 NEW VOTING INCENTIVE! BONUS COMIC PREVIEW!
There's a new, exclusive bonus story arc that's going to be contained inside Puck Volume Two! Vote for Puck on TWC this week to get a little preview of what's coming!
As for this comic…
Phoebe seldom speaks with the voice of knowing authority, unless the subject is fashion and aesthetics. Then her inner Sir Kenneth Clark comes out. (I am aware that only 3% of my readers will know who Sir Kenneth Clark is without Googling him, but when I think of a voice of knowing and slightly arrogant authority, I think of Sir Kenneth Clark.)
A big part of speaking with the voice of authority, I think, lies in having the right hand positions.