Puck 447
on 
June 18, 2018
at 
7:07 pm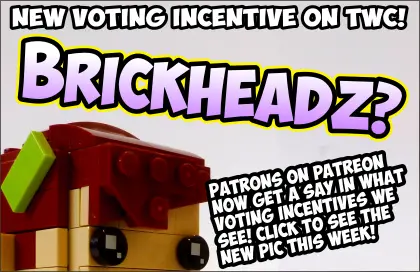 NEW VOTING INCENTIVE! LEGO BRICKHEADZ!
Imagine crossing a Funk Pop figure with Lego and then adding a healthy dose of Puck, and … yeah. Vote for Puck on TWC to see two members of the Puck cast become Brickheadized.
As for this comic…
I have to say that Phoebe is kind of speaking truth here. Pop culture's entire concept of teenagers really seems to have been generated by two distinct decades: the 1950's and the 1980's. If we could somehow combine greasers, leather jackets and drive-thru waitresses on roller skates with malls, leg warmers and the phrase "Gag me with a spoon," we could create a super-teen culture that would obliterate all before it that is not teen.
Phoebe, it must be noted, was not a teen in the 80's according to any timeline. Even going on the original comic, where she was starting university in 1998, she'd have been a wee child (as I was) in that heady decade. The timeline, of course, is a little wonky now due to comic time falling out of sync with real time, and no one has any clue how old Phoebe is anymore.