Puck 448
on 
June 25, 2018
at 
8:30 pm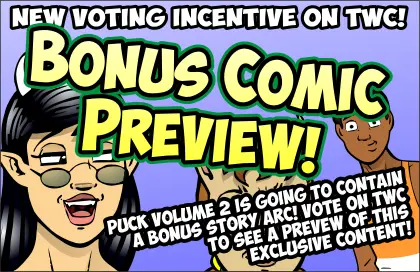 NEW VOTING INCENTIVE! MORE PUCK VOLUME TWO PREVIEWS!
Vote for Puck on TWC to get another glimpse of the upcoming exclusive story arc that will only be found in Puck Volume 2, whenever that comes out!
VOTE FOR PUCK TO SHOW THAT DEMOCRACY STILL WORKS!!!
As for this comic…
Phoebe's observations in panels two and four have always struck me as odd, especially in Canada where I live. Most of the year, one half of the population is going to be doomed to extreme discomfort at any formal event. And I speak as a guy who has been in the wedding parties of outdoor weddings in deadly summer heatwaves. It's awful. And I've watched girls risk frostbite in January, all in the name of elegance. You'd think we could get together and come up with a seasonally appropriate modification for both genders that involved less suffering, but I guess that's me overestimating the pragmatism of the general population again.