Puck 449
on 
July 2, 2018
at 
10:30 pm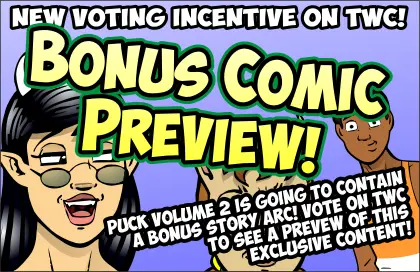 NEW VOTING INCENTIVE! MORE PUCK VOLUME TWO PREVIEWS!
Vote for Puck on TWC to get another glimpse of the upcoming exclusive story arc that will only be found in Puck Volume 2, whenever that comes out!
VOTE FOR PUCK TO SHOW THAT DEMOCRACY STILL WORKS!!!
As for this comic…
Just to reassure people, this dress will not be what Daphne wears to prom. I wouldn't do that to her. Even if she kinda deserves it. In fact, we will never see this dress after this comic. My wife, for one, was very thankful to hear that.
Daphne's comments on the strapless dress fallacy really are an expression of my own observations. I see many girls wearing this sort of dress to prom, and throughout the whole evening they keep needing to do that move Daphne's doing in panel three – a maneuver that I shall dub 'the yank-up' – in order to avert disaster. Shoulder straps are a good thing. Now I realize that I'm making this pragmatic observation while also designing clothing like Phoebe's outfit, which rightly should not stay up at all. But Phoebe's clothing operates in its own weird pocket of the universe where gravity and space-time operate differently. When it comes to all girls who aren't Phoebe, gravity is not a friend. And strapless is a bad idea.