Puck 450
on 
July 9, 2018
at 
9:42 pm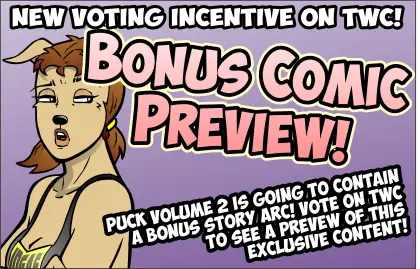 NEW VOTING INCENTIVE! MORE PUCK VOLUME TWO PREVIEWS!
Vote for Puck on TWC to get another glimpse of the upcoming exclusive story arc that will only be found in Puck Volume 2, whenever that comes out!
VOTE FOR PUCK TO SHOW THAT DEMOCRACY STILL WORKS!!!
As for this comic…
This is one of the first times I have EVER broken the four panel rule in this comic, but for this sort of unique scenario, I felt it fitting. It also helps that the first six panels are basically half-panels, making them divide and equate nicely to three real panels. So it's not technically breaking the rules.
For what it's worth, I thought the first dress actually looked kind of cute. Any other opinions out there? Which one is the best/worst of the bunch?