Puck 451
on 
July 16, 2018
at 
10:06 pm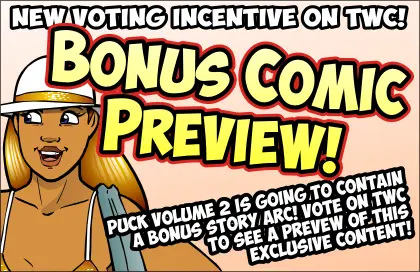 NEW VOTING INCENTIVE! MORE PUCK VOLUME TWO PREVIEWS!
Vote for Puck on TWC to get another glimpse of the upcoming exclusive story arc that will only be found in Puck Volume 2, whenever that comes out!
VOTE FOR PUCK TO SHOW THAT DEMOCRACY STILL WORKS!!!
As for this comic…
I have mentioned in the comments before that from what I've observed, the younger female generation has largely started to eschew the high heels of their mothers and grandmothers. They still go and buy a pair of heels for prom, but almost none of them have any experience wearing them, and they frequently hobbled around comically until they can stealthily kick the heels off under their table later in the evening and go barefoot. Maybe it's just the increasing lack of formality in society that makes them uncomfortable with anything heeled. On a similar note, you'll be hard-pressed to find a teen boy — or even a twenty-five year-old male — today who can confidently tie a necktie.
Oh well. Maybe it's for the best that high heels are left in the dustbin of history along with all the other relics that have been abandoned by the youths of today, like smoking and chewing gum and soda pop and talking on the phone.