Puck 452
on 
July 23, 2018
at 
10:45 pm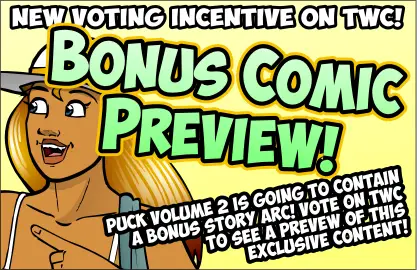 NEW VOTING INCENTIVE! MORE PUCK VOLUME TWO PREVIEWS!
Vote for Puck on TWC to get another glimpse of the upcoming exclusive story arc that will only be found in Puck Volume 2, whenever that comes out!
VOTE FOR PUCK TO SHOW THAT DEMOCRACY STILL WORKS!!!
As for this comic…
This comic speaks to a truth I have observed. As a person who, due to his profession, has attended more proms than any one person should ever rightly attend, I can readily state that far too many girls wear high heels thinking said heels are an asset, while not realizing that their inability to walk around in said heels is a liability. If one cannot confidently ambulate in heels, one should not wear heels. And as I've noted before, the percentage of girls in high school who can successfully ambulate in heels is dropping precipitously.
Hobbling around like a maimed deer is never good. Ever.