Puck 453
on 
July 30, 2018
at 
10:40 pm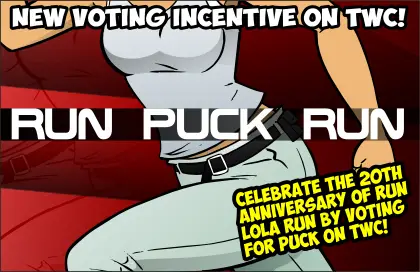 NEW VOTING INCENTIVE! RUN PUCK RUN!
Twenty years ago, some crazy foreign movie about a spitfire redhead and her super-stupid boyfriend came out. A few weeks later, the comic strip Puck began. Coincidence? I think not. Anyway, if you've seen Run Lola Run, go vote to see my weird homage. And if you haven't, uhm … vote anyway?
VOTE FOR PUCK TO DEFEAT THE ARMY OF BOTS!!!
As for this comic…
Some might say that Phoebe's observations are cruel, but I'm firmly of the opinion that Phoebe is incapable of cruelty. Which means her observations are the entirely accurate diagnosis of a fashion expert. There's no malice here – just resignation.