Puck 459
on 
September 10, 2018
at 
8:12 pm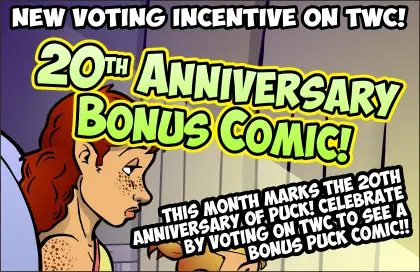 NEW VOTING INCENTIVE! 20th ANNIVERSARY BONUS COMIC!
That's right! Puck marks its 20th anniversary this September! Twenty years ago this comic began publishing in the McMaster Silhouette! Some of you weren't even alive back then! To celebrate, I've put up a bonus comic strip this month which serves as a little homage to the very first Puck comic. Vote for Puck on TWC to check it out!
VOTE FOR PUCK TO SAY, "TWENTY YEARS? HOLY S#$%, YOU'RE OLD!!!
As for this comic…
This strip reveals the fact that yes, Colin does teach at the same school that Daphne goes to. I personally doubt this ever causes any real tension, mainly because I suspect that neither ever actually acknowledges the other in any capacity.
And as a veritable veteran of prom supervision, I can reliably relate that yes, supervising prom kinda sucks. But it's a special kind of sucks that almost verges on rewarding. It's a weird experience, attending a special night that is not your special night in any capacity – to be surrounded by other people's excitement. It's like attending the wedding a total stranger's wedding.