Puck 464
on 
October 15, 2018
at 
9:25 pm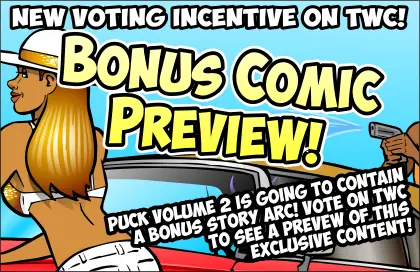 NEW VOTING INCENTIVE! CAR WASH!
There's another bonus preview image for the car wash bonus comic that's appearing in Puck Volume Two … eventually. This one features the actual washing of cars, so check it out!
VOTE FOR PUCK BECAUSE IT ALLOWS YOU TO EXERCISE YOUR FREE WILL!
As for this comic…
I usually try to avoid situations where comics have a time jump between them but keep the exact same characters in them. But here I fell down on the job. The last comic had Puck and Phoebe out walking. Then time jump, and it's Puck and Phoebe. Again. It's just sloppy storytelling, but honestly, I was running out of time and I didn't have another idea for a comic. Also, any idea I came up with would have probably just been filler, and unless it's hilarious filler, I don't think this story arc needs to be lengthened. It's already super long.