Puck 465
on 
October 22, 2018
at 
10:09 pm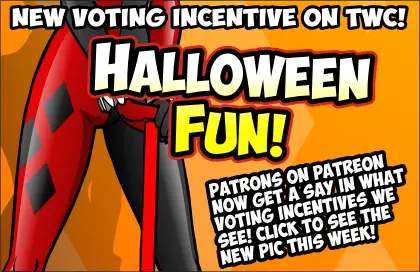 NEW HALLOWEEN VOTING INCENTIVE!
Just in time for Halloween, I threw together a little something at the request of my fine Patreon supporters. They didn't want to see Halloween go uncelebrated and neither did I. So someone threw a costume and, well, you can vote to see for yourself!
A VOTE FOR PUCK IS A VOTE FOR FESTIVITY! AND BACON!
As for this comic…
Initial drafts of this strip originally had to do with gastroenteritis and uncontrollable vomiting, but then I realized that I'd just pulled a vomit joke out of the hat two comics ago, so I had to get more creative. Or should I say, had to get more "creative". Because poop jokes are certainly an unexplored comedic wilderness, right?
EDIT: Panel four originally said 'norwalk' for 'dysentery', but readers generally were unfamiliar with the phrase. So I changed it. That explains the norwalk-related debates raging in the comments section.