Puck 466
on 
October 29, 2018
at 
9:22 pm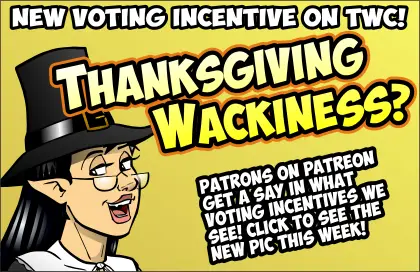 NEW NOVEMBER VOTING INCENTIVE!
It's Thanksgiving for 90% of my readers, so that means weird Phoebe cosplay! If you've ever wanted to see a devil girl dress up as a sexy pilgrim, then, well, I think it's safe to say that this is your only chance. Better vote while you can!
VOTE FOR PUCK! SAY YES TO THE BLUNDERBUSS!
As for this comic…
It is a comic. I had things I wanted to say about it earlier, but at the moment I lack the inclination to write them down.