Puck 467
on 
November 5, 2018
at 
9:36 pm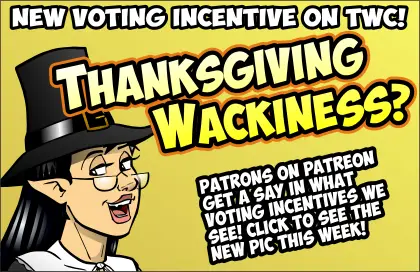 NEW NOVEMBER VOTING INCENTIVE!
It's Thanksgiving for 90% of my readers, so that means weird Phoebe cosplay! If you've ever wanted to see a devil girl dress up as a sexy pilgrim, then, well, I think it's safe to say that this is your only chance. Better vote while you can!
VOTE FOR PUCK! SAY YES TO THE BLUNDERBUSS!
As for this comic…
American readers, know that I am aware Phoebe's statement is not applicable to many of you, and that thanks to your sacrosanct Second Amendment, nothing stands between you and your glorious right to bear arms. This comic is set in Canada, though, where the right to bear arms does not exist. Up here it's a privilege to bear arms, you hear? And they won't give a license to just anyone. (Actually, to be honest, I think they kinda do give a license to just anyone; it's just that they demand that hoops be jumped through first. We like hoop-jumping in Canada.)
I also realize that the 'gun control' element of this comic might make it frighteningly politicized in the eyes of some, but whatever. It was the funniest joke I could come up with. I tried out analogies to alcohol or other controlled substances, but the 'self-defense' angle was too good to pass up. Because high heels are not like beer, or painkillers. Heels are a weapon. Heels are always a weapon. Metaphorically and – in rare instances – literally.