Puck 468
on 
November 12, 2018
at 
9:54 pm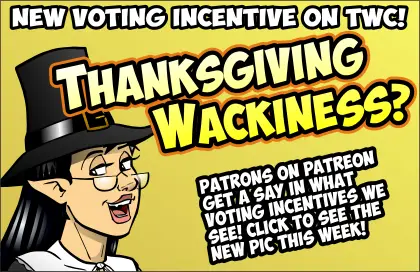 NEW NOVEMBER VOTING INCENTIVE!
It's Thanksgiving for 90% of my readers, so that means weird Phoebe cosplay! If you've ever wanted to see a devil girl dress up as a sexy pilgrim, then, well, I think it's safe to say that this is your only chance. Better vote while you can!
VOTE FOR PUCK! SAY YES TO THE BLUNDERBUSS!
As for this comic…
So we finally see the dresses that Phoebe's been cooking up for herself and Puck. Puck's is reasonably classy. Phoebe's is unreasonably over-the-top. No surprises there.
This comic, by the way, was at least partially inspired by the fact that I mistakenly put in a speech bubble when I should have put in a thought bubble in a comic a few weeks ago. It just got me musing on the importance of speech versus thought bubbles, in comics and in real life.