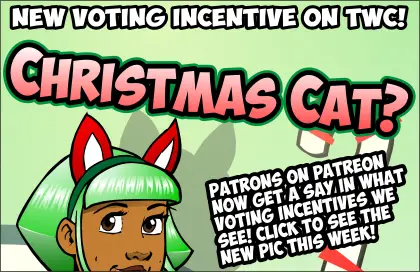 NEW CHRISTMAS VOTING INCENTIVE!
Everyone loves cats on the internet, right? And everyone loves Christmas? Well, boy, do we have it covered!
VOTE FOR PUCK TO PROVIDE CHARITABLE MITTENS FOR NEEDY KITTENS!
As for this comic…
It seems unfair or outright impossible that these two outfits should fall under the same classification of 'dress' but they somehow do. Just as an English Mastiff and a Shih Tzu are both technically classified as dogs.