Puck 469
on 
November 19, 2018
at 
9:42 pm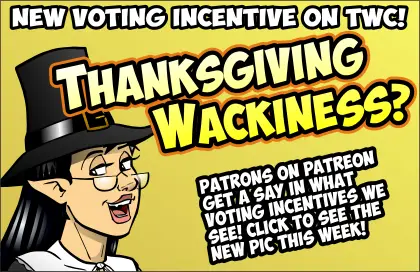 NOVEMBER VOTING INCENTIVE!
It's Thanksgiving for 90% of my readers, so that means weird Phoebe cosplay! If you've ever wanted to see a devil girl dress up as a sexy pilgrim, then, well, I think it's safe to say that this is your only chance. Better vote while you can!
VOTE FOR PUCK! SAY YES TO THE BLUNDERBUSS!
As for this comic…
Many of you took part in the sport of judging dresses last week, with the general consensus being that Puck's classy number topped Phoebe's 'half-peeled banana' ensemble. In the same spirit of competition, I humbly present the Academy with another dress this week: Tracee's outstanding little number here. Judge away!