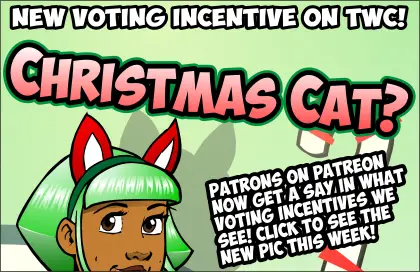 NEW CHRISTMAS VOTING INCENTIVE!
Everyone loves cats on the internet, right? And everyone loves Christmas? Well, boy, do we have it covered!
VOTE FOR PUCK TO PROVIDE CHARITABLE MITTENS FOR NEEDY KITTENS!
As for this comic…
My wife hates puke. Like, she really hates puke. She can't stand to be in the same room when one of our kids barfs. She doesn't like seeing puke in film or pictures either. But when she saw this comic, she was happy. Why? Because the dress was destroyed. As she said, "It deserved to be destroyed."
She was also happy to hear that most of the readership agreed with her.