Puck 472
on 
December 10, 2018
at 
10:32 pm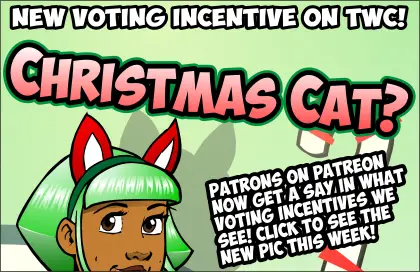 NEW CHRISTMAS VOTING INCENTIVE!
Everyone loves cats on the internet, right? And everyone loves Christmas? Well, boy, do we have it covered!
VOTE FOR PUCK TO PROVIDE CHARITABLE MITTENS FOR NEEDY KITTENS!
As for this comic…
I don't have much energy to offer commentary here. Today is my fortieth birthday. That in and of itself is enough of a downer to ruin any day, but then my one kid barfed in the middle of the night, which meant that was on 'deal with the sick kid' detail all day. And I am tired. Some people ask me, "Why do so many of your comics contain gags centered on puke?" The answer is simple: I write from experience. And my life is a vomit-soaked one.