Puck 473
on 
December 17, 2018
at 
9:48 pm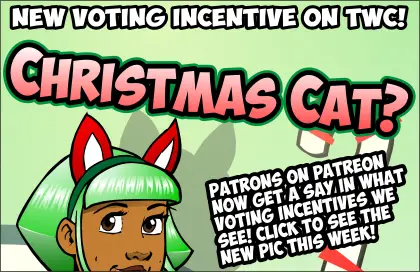 NEW CHRISTMAS VOTING INCENTIVE!
Everyone loves cats on the internet, right? And everyone loves Christmas? Well, boy, do we have it covered!
VOTE FOR PUCK TO PROVIDE CHARITABLE MITTENS FOR NEEDY KITTENS!
As for this comic…
This is inspired loosely by the experiences of someone I know. Like Sigmund, he pinched his sciatic nerve. And like Sigmund, even clothing was pretty much too painful to manage for a long time. Thankfully I only heard about that part afterwards. Apparently it took him the better part of a week to recover. Them sciatic nerves is no joke.
Note: this is the first time in the history of the comic that we have seen Sigmund without his glasses. Or his clothes. Though his eyes are closed, so we don't yet have proof that his eyes are glowing demon spheres.