Puck 474
on 
December 24, 2018
at 
8:56 pm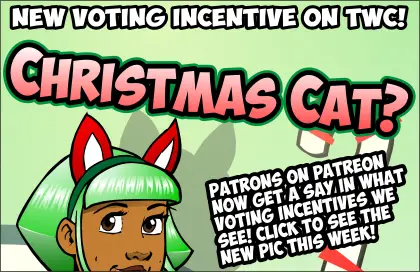 NEW CHRISTMAS VOTING INCENTIVE!
Everyone loves cats on the internet, right? And everyone loves Christmas? Well, boy, do we have it covered!
VOTE FOR PUCK TO PROVIDE CHARITABLE MITTENS FOR NEEDY KITTENS!
As for this comic…
Merry Christmas, you wonderful people you.
And here we have a comic that is decidedly non-Christmas. It does, however, give you the gift of ridiculous 'fashion'.
This one comic, I must note, almost killed me. I dislike drawing and coloring backgrounds, and this particular comic's particular demands meant that I started it early and still finished it late – an extra challenge given the time of year. The other snag is that the program I do coloring is … a little touchy at best, and the more complex the comic gets, the slower it becomes. So it's this escalating feedback loop where a complex comic takes me a long time, but the lag increases with the complexity as well, making it nightmarish. Got it done, though.
My wife was somewhat perturbed to see Phoebe's dress front and center in this one. "That's the third dress you've designed that essentially doesn't have a front," she noted. "I'm not sure how I feel about that."
At least Puck's dress is tasteful.
For the record, the building they're in front of is NOT Satan's mansion, even though it bears a passing resemblance to said structure. This is an old train station that was lavishly refurbished into a hall for events. It was also the site of a major action scene in the first X-Men movie. I'm not kidding on that.