Puck 475
on 
December 31, 2018
at 
9:14 pm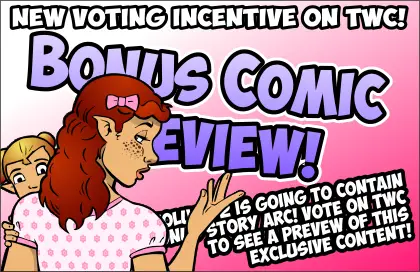 NEW JANUARY VOTING INCENTIVE!
December's been really hard on me for time constraints, so I didn't get a chance to do a January-themed piece of art. So that means falling back on those bonus pics from the extra comic that may never actually see the light of day!
VOTE FOR PUCK TO VOTE FOR PUCK! IT'S A MEANS AND AN END!
As for this comic…
Happy New Year, you wonderful people you. This year the last comic posted on both Christmas Eve and this comic posts on New Year's Eve, so it's extra festive. This one, perhaps, is a little more in keeping with the holiday it posts on. Puck and company are at a party. It's on point. Kinda.
Note that Papa Shnorf's appearance at junior prom is only one of many weird curve balls coming your way in this story arc. Honestly, I couldn't resist bringing this character back for a little bit. He's just so … weird. And no, he will never become a major character, really, but he'll keep on popping up from time to time.