Puck 502
on 
July 8, 2019
at 
10:23 pm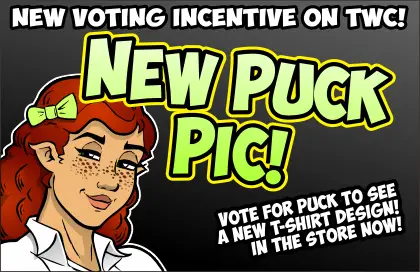 JULY VOTING INCENTIVE UP NOW!
I felt like drawing a new pic of Puck. So I did. And I put it on a shirt! If you want the shirt, you can get it (and other shirts) RIGHT HERE! If you just want to see the pic, though, vote for Puck on TWC!
VOTE TO BE SO VERY, VERY KIND!
As for this comic…
Back to Tracee and baby for just a comic or two. It's a pattern. Gotta hold the rhythm.