Puck 501
on 
July 1, 2019
at 
10:05 pm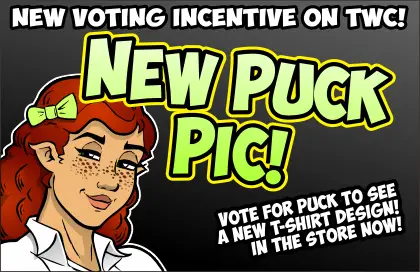 JULY VOTING INCENTIVE UP NOW!
I felt like drawing a new pic of Puck. So I did. And I put it on a shirt! If you want the shirt, it's on sale for $14 for the next three days (from the point I post this, so until Thursday night, I think) and you can get it RIGHT HERE! If you just want to see the pic, though, vote for Puck on TWC!
VOTE TO BE SO VERY, VERY KIND!
As for this comic…
For the record, I'm proud of panel three. And yes, I did study stills from 'Dirty Dancing' to get the pose right. I'm that serious. From studying that footage, I can say two things: (1) Patrick Swayze had to have INSANE upper body strength and coordination to pull that off, and (2) even with his insane upper body strength, the chances of Jennifer Grey swan-diving face first into the ground due to the balance being slightly off was still high. It's just … it looks dangerous is all I'm saying.
Wait, does anyone remember 'Dirty Dancing'? Why do I continually put stupid references to ancient 80's movies into a webcomic that's targeted to a demographic that wasn't even around in the 80's? Because culture, damnit! That's why!
And hey, speaking of dead cultural refs, it's #501! Anyone remember button-fly jeans? Anyone? I owned a pair in middle school.