Puck 507
on 
August 12, 2019
at 
11:10 am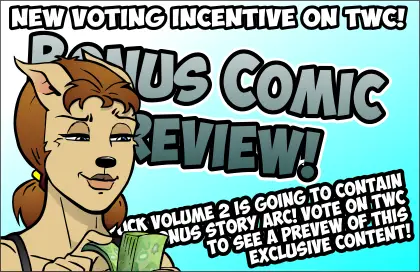 AUGUST VOTING INCENTIVE UP NOW!
More bonus comic pic. Seeing as this bonus comic may never actually come together properly, this may be your only time to see this image, so please…
VOTE TO BE SO VERY, VERY KIND!
As for this comic…
I'm posting this comic early because I won't be available at my usual posting time. I'll be at the Game Grumps Live show in Toronto tonight! If you're going to the Monday night show, try and find me! I'll be wearing a Puck shirt. (I know it's a long shot, but hey, I thought it's worth a mention.)
And look! I'm calling back to a development that hasn't even been mentioned for nigh on eighty weeks! For those that don't remember, yes, Colin did in fact propose to Puck. And no, they were not already married. Not officially, anyway. And no, I didn't actually forget about the wedding thing, but the whole prom narrative didn't provide much breathing room to mention it, so … yeah. The wedding will happen. Eventually. At some point in time.
In Colin's defense, he was not in the best state when the proposal happened. The post-op state is not always the best one for clear recollection.