Puck 509
on 
August 26, 2019
at 
10:00 pm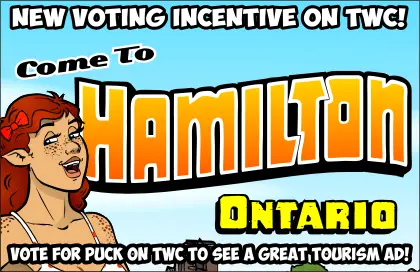 SEPTEMBER VOTING INCENTIVE FOR ALL!
So the deal here is that I've been working on background images for that bonus comic I keep working on. I had some backgrounds of scenery from my city drawn and colored but nothing that would make a good voting incentive. So I quickly drew a pic of Puck, smacked something together and the end result actually looks pretty good!
VOTE TO BE THE BEST YOU CAN BE!
As for this comic…
This one took a long time to make. I'm tired. I am also happy with panel four. Might be my new most favorite panel of all time.