Puck 526
on 
December 23, 2019
at 
11:16 pm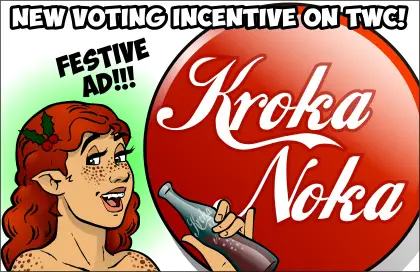 HOLIDAY VOTING INCENTIVE IS LIVE!
I felt, in the spirit of the holidays, that I needed to celebrate a certain cola company that for all intents and purposes birthed the modern Santa. Or at least celebrate the Puck universe's off-brand equivalent. So here goes!
VOTE TO ROT YOUR TEETH WITH SUGARY JUNK!
As for this comic…
I'm late posting this because (A) I was super behind due to holiday craziness, and (B) when I actually had a block of time to work on the comic, my neighborhood was hit with a lengthy blackout. I spent most of today with no power. So I finished the speech bubbles about five minutes before posting this, and … yeah, I'm drained.
I hope everyone has a good Christmas if I don't see or hear from you before then. Drink lots of egg nog, open lots of presents, and be overtly festive. I command you.
Oh, and yes, I saw the new Star Wars movie. It sucked so hard, I'm still recovering. I haven't felt this level of disappointment since staggering out from The Phantom Menace. Oh well. Let's hope CATS will live up to the hype and save this holiday movie season!