Puck 431
on 
February 26, 2018
at 
8:38 pm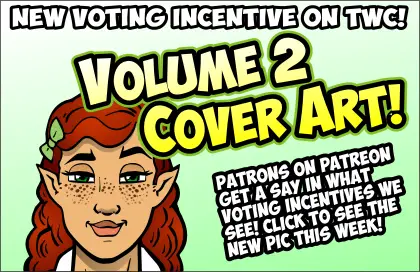 NEW WEEKLY VOTING INCENTIVE! VOL 2 PREVIEW!!
Follow along as I draw the cover for Puck Volume 2! (And remember: fans who donate $5 or more a month get a say in what voting incentives run! If you want to join their controlling ranks, HEAD ON OVER TO PATREON and join the select club!)
VOTE FOR PUCK AND MAKE RUTABAGAS EDIBLE!!!
ALSO…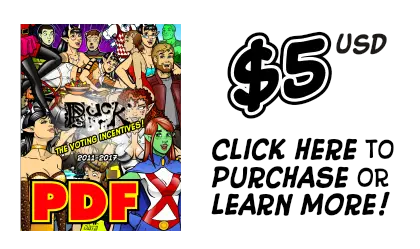 I recently put a bunch of work into updating the PDF collection of voting incentive images, and the results are finally assembled! This new PDF volume contains all the voting incentives from 2011 all the way to 2017 (including some that never even ran) in a print-ready high resolution! That's almost 200 pages of stuff! So if you'd like to buy a copy, please do!
As for this comic…
One might be tempted to ponder the ramifications of a world where cosplay cat girls exist alongside real dog girls, but I'm personally going to seriously resist that temptation. Readers, however, are free to ponder away at their leisure.