Puck 531
on 
January 27, 2020
at 
10:48 pm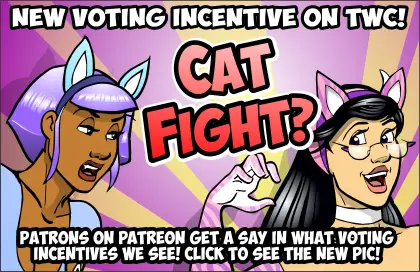 VALENTINE'S DAY VOTING INCENTIVE IS HERE!
I take no responsibility for this one. This is a concept hatched by one of my fine patrons on Patreon and then promptly seconded by a few other fine patrons, so I felt compelled to draw it. I totally did not actively choose to draw this image due to its inherent fun factor. And the fact that I wanted to draw it. Totally nothing to do with me.
As for this comic…
I am not a motorcycle guy. I've never been a motorcycle guy. And I know that, historically speaking, motorcycles were awesome American symbols of virile bad boy awesomeness, but I kind of suspected that the ensuing decades of quinoa-eating, enviro-friendly, safety-conscious hipsterism had lessened the motorcycle's once mighty appeal in the eyes of people today.
But there is a guy where I work. This guy rides a motorcycle. Some female co-workers were talking about him and I said, "He seems like a nice guy, but I don't know about the whole motorcycle thing. Seems a little…"
"Hot?" the one woman offered.
"Sexy?" the other suggested.
"Hot and sexy?" the first continued. "Because it is. Motorcycles are sexy and hot. And you're just jealous."
She wasn't wrong.
And I guess the motorcycle still has a little bit of its magic left.