Puck 532
on 
February 3, 2020
at 
9:28 pm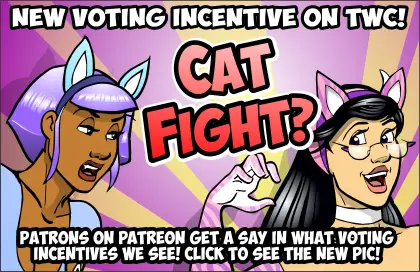 VALENTINE'S DAY VOTING INCENTIVE IS HERE!
I take no responsibility for this one. This is a concept hatched by one of my fine patrons on Patreon and then promptly seconded by a few other fine patrons, so I felt compelled to draw it. I totally did not actively choose to draw this image due to its inherent fun factor. And the fact that I wanted to draw it. Totally nothing to do with me.
As for this comic…
Not much to say, other than to note that I realized when working on this comic that Hannah must be tiny. I mean, we've mostly seen her standing next to Daphne, and Daphne is not tall. Daphne is about four inches shorter than Puck and Phoebe, and Hannah is another four inches shorter than that, so … that makes Hannah a whopping five foot nothing. That's short.
Not that there's anything wrong with that.