Puck 534
on 
February 17, 2020
at 
10:17 pm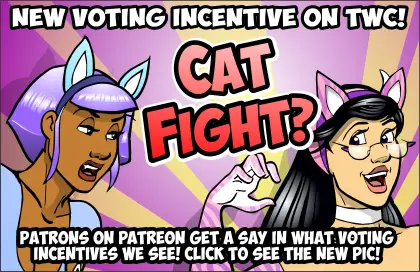 VALENTINE'S DAY VOTING INCENTIVE IS HERE!
I take no responsibility for this one. This is a concept hatched by one of my fine patrons on Patreon and then promptly seconded by a few other fine patrons, so I felt compelled to draw it. I totally did not actively choose to draw this image due to its inherent fun factor. And the fact that I wanted to draw it. Totally nothing to do with me.
As for this comic…
I went through a few drafts for Puck's non sequitur in panel four before settling on this one. Most of the rejected drafts centered on Eggo waffles, for some reason. I eventually 'leggo' of the the Eggo, though, and went in this direction.