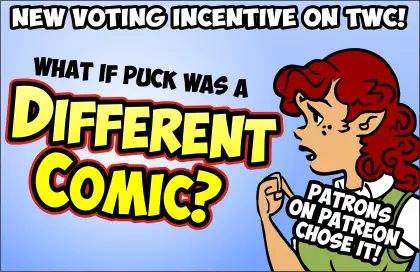 NEW MARCH VOTING INCENTIVE!
This month brings us Puck in a decidedly different style. Vote to see the cast as they would appear in OTHER comic strips!
As for this comic…
1) No, I have no idea where those lampposts came from. They clearly weren't there in the previous establishing shot when Puck dropped Miranda off, but now … here they are. (Real answer: the model for Satan's home is actually a historic building and does not have that driveway nor any kind of prominent artificial lighting on it, so it's an obvious thing I totally forgot to add because, you know, it wasn't there in the reference pics. But now I need some lighting, so … yeah.)
2) No, I don't know what happened to Satan's damaged Cadillac, which was previously parked right where they're standing. Nor do I know what happened to the monkey bear. Maybe the monkey bear hot-wired the car and drove off with it? Hard to say.