Puck 540
on 
March 30, 2020
at 
11:02 pm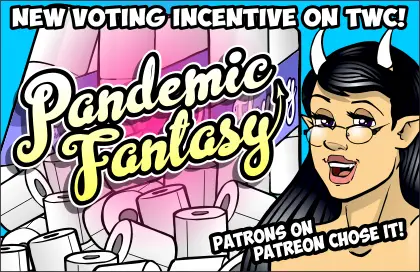 NEW APRIL VOTING INCENTIVE!
Vote for Puck on TWC to get a message of support in these trying times!
As for this comic…
Someone called this last week. So hats off.
A few people also noticed that I got confused as to which shoe Daphne lost in comic #538. For some reason, I was so sure it was the right shoe that I didn't even bother to check. It was the left. So I went back and changed last week's comic to keep the continuity. Also, this week you'll notice a bare left foot in panel four. Continuity! Also, someone update the foot wiki.
I hope everyone's doing okay out there, both health-wise and finance-wise. Keep safe, stay home and try to stay sane.