Puck 541
on 
April 6, 2020
at 
9:53 pm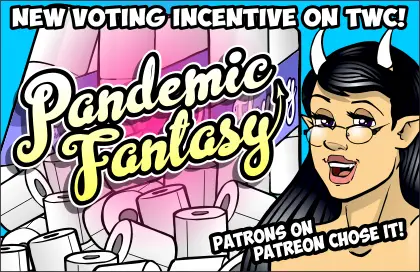 NEW APRIL VOTING INCENTIVE!
Vote for Puck on TWC to get a message of support in these trying times!
As for this comic…
I break the 180 degree rule of cinema in this comic (twice), but it felt funnier that way. And yes, we finally get to meet Tyler's parents. Yes, they're both profs. Which does make sense, given the fact that Tyler and Daphne first became friends on a university campus. His house is also quite literally across the street from the university. That's some of the campus buildings behind Daphne in panel three.
This is the first time we've met Tyler's parents directly, but we've heard of his mother before, and the fact that she is not a fan of Daphne. I guess that's pretty obvious now.