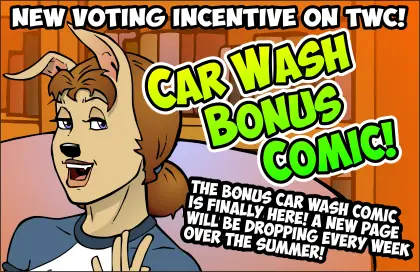 THE BONUS STORY ARC COMIC CONCLUDES. THE LAST PAGE IS … still here.
It's the tail end of summer, and that brings to an end the 'Car Wash Caper' bonus comic! To see the very last page, head on over to TWC and vote for Puck!
VOTE TO WASH THAT CAR REAL GOOD!
As for this comic…
This is the start of another story arc, FYI. It will be shorter than the last one, hopefully. Still may take a year to play out, but it'll hopefully be a lot of fun. I haven't entered the name of the chapter into the site yet because it would be a big spoiler, but … maybe next week. Maybe.