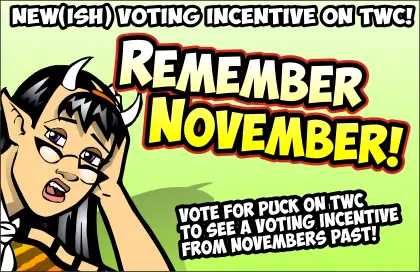 IT'S THE GHOST OF NOVEMBERS PAST!
Take a trip down memory lane as we revisit some voting incentives from previous Novembers. This week's entry dates all the way back to 2013! It's not new, but it's still fresh!
VOTE FOR SUCCESS ON THE MINOR LEAGUE CIRCUIT!!!
As for this comic…
My initial plan here was to have Daphne be fully against the whole thing until offered money, but that felt … old. It felt expected. I decided to take it in a different direction.
On another front, panel four forced me to do one of my least favorite things: cover up half of a drawing with a speech bubble. See, I'm not very efficient in my work methods. I add speech bubbles as the final step, and while I do plan where they're (roughly) going to be located, sometimes panels can surprise me with their shocking lack of real estate. That's when things like this week's panel four happen. I drew a full image of Daphne, complete with color and shading and everything, then I ran out of room to put her speech bubble. So now that art will never be seen. Though you CAN see it if you head on over to Patreon where I posted it for my fine patrons to see! And if you're not one of my fine patrons… you could be! Just saying.