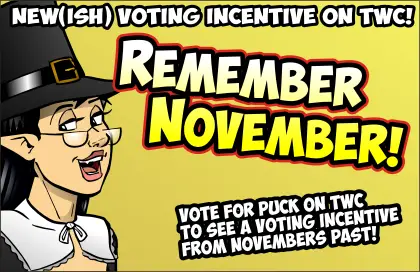 IT'S THE GHOST OF NOVEMBERS PAST!
Take a trip down memory lane as we revisit some voting incentives from previous Novembers. This week's entry is from 2018! It's not new, but it's still fresh!
VOTE FOR SUCCESS ON THE MINOR LEAGUE CIRCUIT!!!
As for this comic…
Phoebe isn't in the comic here merely because I ran out of panel space. She's there. Just outside the panel, I'm sure.
This one was a bit of a nail-biter in terms of getting it done on time. I was planning to really crank on it Sunday night when a mean Colorado low came through and brought a crazy wind storm to Ontario. It knocked out my town's power for half of the day. And seeing as my ancient laptop's battery has a regular lifespan of about twenty seconds, that was a problem. But oh well. It's done now, such as it is.