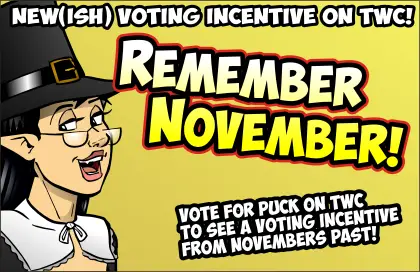 IT'S THE GHOST OF NOVEMBERS PAST!
Take a trip down memory lane as we revisit some voting incentives from previous Novembers. This week's entry is from 2014! It's one of my favorite incentives that pays homage to Archie. Not sure why it originally ran in November, but IT DID! It's not new, but it's still fresh!
VOTE FOR SUCCESS ON THE MINOR LEAGUE CIRCUIT!!!
As for this comic…
I do believe that Puck has a point here. It's not that the one has fully superseded the other, exactly. But video games are certainly the most popular type of time waster among those that have time to waste. It's not a perfect comparison. But it kinda works.
And hey, look! The laundry room! The last time we saw the gross laundry room, Colin and Puck were visiting it for … other purposes.