Puck 575
on 
November 30, 2020
at 
10:21 pm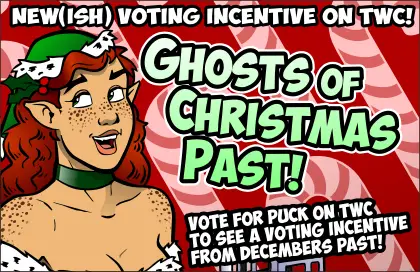 IT'S THE GHOST OF CHRISTMAS PAST!
Take a trip down memory lane as we revisit some voting incentives from previous Decembers. I DO have a new voting incentive in the pipeline for this December, and it's a doozy, but it'll take me a few more weeks to put the finishing touches on it. It will be ready for Christmas, though. Until then, I thought we could go for some reruns.
As for this comic…
We can gather from everyone's outfits that we're still on the same day that Colin proposed the Scooby-Doo cosplay experience. Which means that Phoebe either procured a Fred outfit for Tyler in a matter of hours or she just had one lying around. And honestly, either option seems entirely plausible.